Google, possibly the largest search engine present till date, uses a complex panel of algorithms that helps it identify, and bring the best and the most relevant results to the end-users which is us.
Until now, that is to say, since the inception of Google in the 1990s, it has launched several core updates to make the whole search experience for the end-users like us simple, useful and clutter-free in every way possible. To make this a reality, all these core updates work in a synchronized manner and deliver the most useful end results on the top rankings of the SERP's, whether it be entertainment, business, food, healthy living or any other topic; Google has over the years truly mastered the art of delivering all the right, authentic and the most practical answers to us within seconds.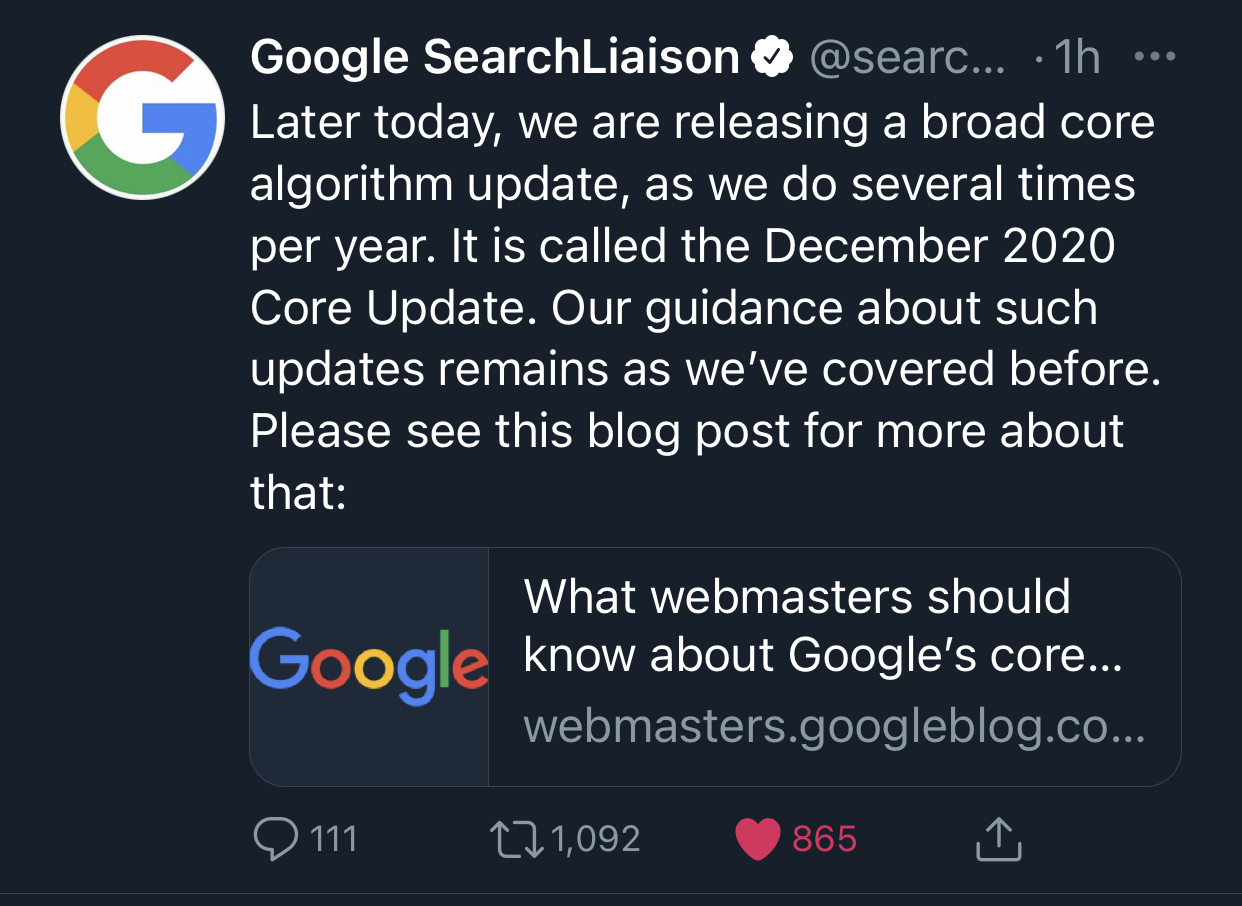 And, one of the most recent updates by Google is being called as the 'Google Algorithm Update December 2020'. What's been known till now is that the rollout of the update started at around 1:00 PM on December 3 and it will take about 2 weeks time to globally establish its presence worldwide.
Delay Due to COVID
Usually, the timeframe in which Google used to release such broad core updates was 3-4 months. However, this time a major update has been released after 7 months of the last update which was released in May 2020. People are speculating that it might be due to the ongoing COVID scenario.
Is it Major or a Minor Google Update?
Many data companies are saying that the Google Algorithm Update December 2020 is quite a substantial update and will affect the rankings of the webmaster's websites in the coming days. In a positive or a negative way? This only time will tell. However, this is a standard procedure for Google to roll out such updates at regular intervals of time to ensure quality maintenance in the search engine results.
According to SEMRush, this update will affect health, real estate, travel, finance, law and government websites on the desktop mostly. Talking about the mobile searches, again, it will affect the health sector, law and government websites, jobs and education portals as well as pets & animals, real estate websites.
What Can You Do to Ensure Your Website Doesn't Take a Negative Hit Due to this Update?
One thing any business or a website can do to ensure they don't see any kind of negative effect of this core update of Google is to pour the best and the most unique content on their website.
And one best way to do that it to write content that aligns with EAT - Expertise, Authority, Trustworthiness.
Expertise:
In its essence, expertise means that the content generated by the creator must showcase their skill towards what they are writing. For that to happen, your content must be truthful and should educate your users.
Authority:
Expertise will lead to authoritativeness. To add authority, you can try and write from a personal point of view and from real-life experiences.
Trustworthiness:
What this means is that the user coming on your website should be able to trust your product/services/content. For instance, for an E-Commerce website, it is highly imperative that the user can trust the brand while entering their credit or debit card details.
With this, it won't be wrong to say that EAT is a good metrics of judging one's quality of a website page. It is the reason why users would ultimately choose your website over your possible competitors and also get them good rankings.
Conclusion: While there will be many more such broad updates coming from Google in the future, but for now, we will have to see what kind of impact the December core update will bring with it and how it will affect all the major and minor businesses. Let's keep our fingers crossed.